Sustainability Reporting in India
Amidst global ESG and sustainability trends, Indian enterprises are embracing sustainability reporting for positive impact, transparency, and value creation. This article explores India's dynamic regulatory landscape, highlighting the pivotal role of entities like SEBI in driving sustainability disclosures for long-term success.
Read More

As ESG and sustainability gain paramount importance globally, Indian enterprises are increasingly recognizing the imperative of sustainability reporting and its potential to drive positive impact, enhance transparency, and foster value creation.
The roots of non-financial reporting can be traced back to 1973 when the International Financial Reporting Standards (IFRS) introduced the concept in response to the increasing demand for comprehensive insights into external factors such as the economy, environment, society, and stakeholders' interests.
Since then, the landscape has evolved dramatically with current market trends primarily fuelled by such factors as heightened investor scrutiny, societal expectations, and a fast-emerging and sometimes international regulatory landscape. Notably, this trajectory has been significantly influenced by India's growing commitment to sustainable development driven by regulation, including local 2070 net zero targets, domestic societal expectation, and exporters' need to align with their overseas clients' requirements.
In this context, the role of sustainability reporting has amplified. Indian enterprises are compelled to bolster their focus on sustainability issues, intensify monitoring, and enhance reporting efforts.
However, this push isn't devoid of challenges. While the pressure to report on sustainability increases, many companies struggle to turn this compulsory, compliance-driven reporting requirement, into authentic and meaningful disclosures - thereby foregoing the opportunity to leverage these metrics for growth.
Navigating the Indian Regulatory Terrain
Sustainability reporting in India finds its foundation in a dynamic regulatory landscape. As the country acknowledges its responsibility in achieving global climate targets and fulfilling its commitment to the Paris Agreement, the regulatory journey has gained momentum. Entities like the Securities and Exchange Board of India (SEBI) have made significant strides in mandating sustainability disclosures by listed companies, recognizing that non-financial factors wield substantial influence over a company's long-term success.
The Companies Act of 2013 was a pioneering move, introducing early ESG disclosure mandates. Section 134(m) of the Act necessitates firms to include a Board of Directors report on energy conservation alongside annual financial statements. Detailed by Rule 8(3)(A) of the Companies (Accounts) Rules, 2014, this requirement seeks extensive energy conservation information.
Furthermore, Regulation 34(3) of the SEBI (Listing Obligation and Disclosure Requirements - LODR) Regulation, 2015, compels companies to reveal opportunities, risks, threats, and concerns in annual reports. Yet, these disclosures lack specifics on identifying such prospects or risks and fail to require progress tracking.
In 2017, SEBI issued a circular on "Disclosure Requirements for Issuance and Listing of Green Debt Securities," supplementing the 2008 SEBI (Issue and Listing of Debt Securities) Regulation. This aims to establish green debt securities' regulatory framework, attracting funding for ESGaligned projects, spanning sustainable energy, clean transportation, water and waste management, climate adaptation, and biodiversity conservation. The Indian Banks' Association (IBA) has also released the National Voluntary Guidelines for Responsible Financing, laying down broad and general principles towards 'integrating ESG risk management into Financial Institution's (FIs) business strategy, decision-making process and operations.
The Companies Act, 2013, underwent a pivotal amendment in 2021, launching the Business Responsibility and Sustainability Reporting (BRSR) making it mandatory for the top 1000 listed companies to disclose their ESG performance under nine specific pillars. This legislative impetus underscores India's ambition to align with international reporting practices while tailoring them to its unique context. Prior to BRSR, the Ministry of Corporate Affairs (MCA) had introduced the Business Responsibility Reporting (BRR) guidelines in 2009. Serving as a foundational step, BRR provided the basis for expanding into a more comprehensive ESG framework. Over the course of a decade, this evolution refined and expanded into BRSR, aligning it with ESG disclosure mandates and international standards that characterize the contemporary landscape of sustainable reporting.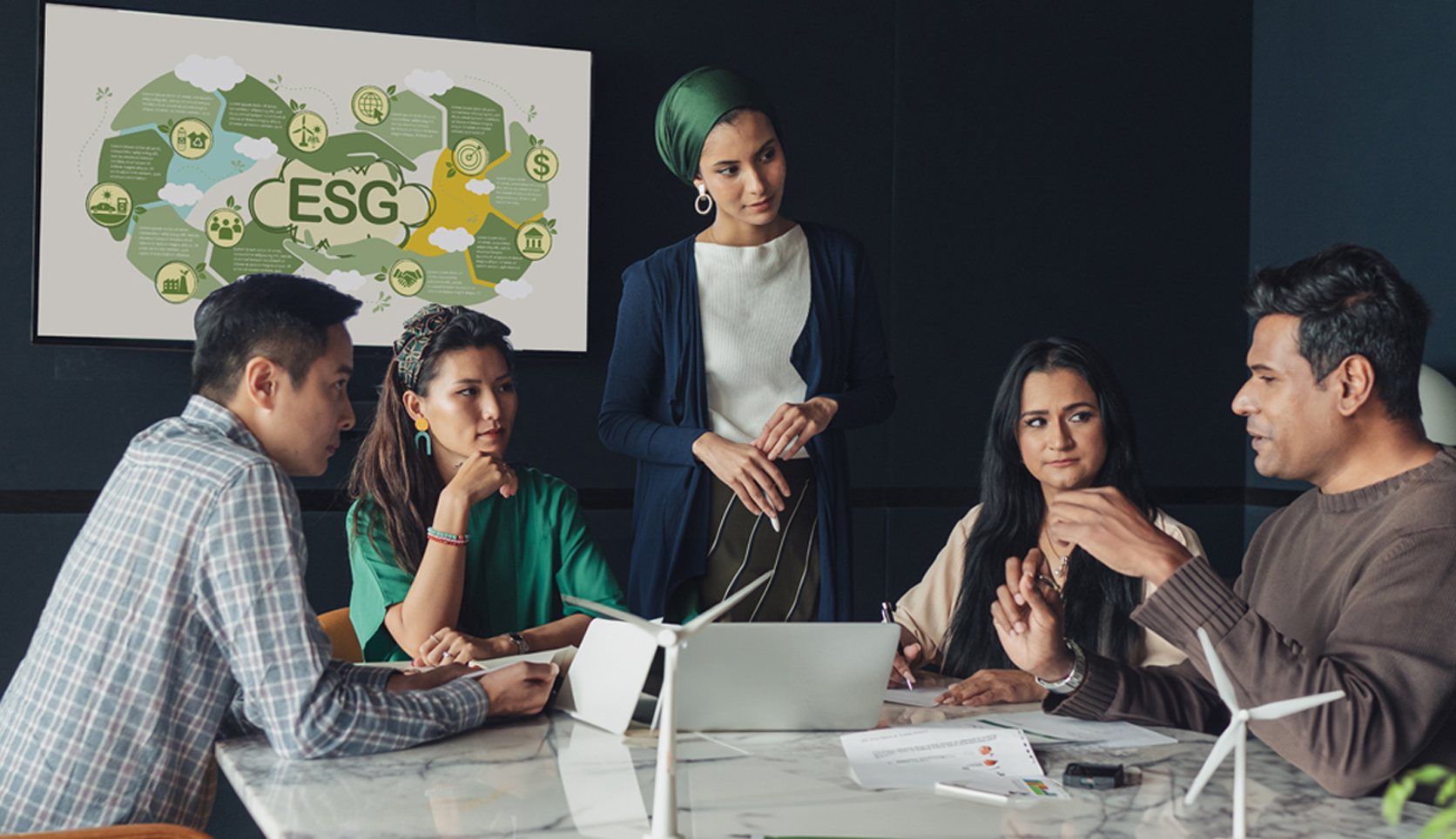 The Dynamics of Sustainability Reporting in India
In recent years, sustainability reporting in India has rapidly evolved from a rudimentary disclosure of basic metrics to a comprehensive picture of a company's ESG (Environmental, Social, and Governance) performance. Beyond the traditional financial metrics, companies must now embrace Corporate Responsibility, Sustainability & ESG Frameworks, and Integrated Reports to communicate their commitment to addressing material ESG issues. Typically, these frameworks establish key protocols and criteria against which companies should disclose their performance. Such disclosures may include:
performance-based criteria like energy consumption, water or carbon footprint, diversity in the workforce, attrition rate, etc.;
strategic efforts taken towards being more sustainable, such as resource efficiency and circular practices, employee welfare and
CSR efforts, development of essential non-financial KPI tracking systems, etc. In particular, one defining trait of sustainability/ ESG frameworks developed over the last few decades is the acknowledgement of the role decision-makers in companies play in ensuring responsible and continued action towards sustainability. This realisation is evident in many "Governance" criteria, which focus on good traits such as transparent and ethical behaviour, that all companies should instil across their operations.
Indian companies may select to voluntary reports based on additional ESG standards, certifications, indices, or frameworks.
In addition to guiding the sustainability journey internally, these internationally recognised tools can act as a competitive advantage for exporters, and increasingly those companies which focus may seem restricted to a local clientele, but which in effect will most often be part of global value chains with scope 3 considerations at play.
Businesses could consider well-established frameworks like:
GRI: The Global Reporting Initiative (known as GRI) is an international independent standards organization that helps businesses, governments, and other organizations understand and communicate their impacts on issues such as climate change, human rights, and corruption.
SASB: The Sustainability Accounting Standards Board (SASB) is a nonprofit organisation that helps businesses and investors develop a common language about the financial impacts of sustainability. Available for 77 industries, the SASB Standards identify the sustainability-related risks and opportunities most likely to affect an entity's cash flows, access to finance and cost of capital over the short, medium or long term and the disclosure topics and metrics that are most likely to be useful to investors.
TCFD: The Task Force on Climaterelated Financial Disclosures (TCFD) was created by the Financial Stability Board with the aim to improve and increase reporting of climate-related financial information.
They could opt for recognised standards such as:
ISO14001: ISO 14001 is an international standard for Environmental Management Systems (EMS). It provides a framework for organizations to identify potential environmental impacts, implement measures to minimize them, and continually improve their environmental performance. The standard helps companies achieve sustainability goals, comply with environmental regulations, and enhance their reputation.
ISO26000: ISO 26000 is an international standard that offers guidelines for organizations on how to operate in a socially responsible manner, taking into consideration their impact on society and the environment. The standard covers a wide range of areas such as human rights, labor practices, fair operating practices, consumer issues, community involvement, and the environment.
UN Global Compact (UNGC): The United Nations Global Compact (UNGC) is a strategic initiative launched by the United Nations to encourage businesses to adopt sustainable and socially responsible practices. The compact consists of 10 principles in the areas of human rights, labour, environment, and anti-corruption, to which companies can commit and work towards implementing
Certifications showcase commitment to specific ESG values –for example:
B-Corp: Developed by B-Lab, a nonprofit network, B Corp certification is a rigorous, third-party verified standard for social and environmental responsibility. It evaluates a company's impact on workers, customers, suppliers, community, and environment.
CarbonNeutral: Carbon neutral certification is a process that confirms an organization's or project's net carbon emissions are zero or below. It is achieved by measuring emissions, implementing emissions reduction measures, and offsetting any remaining emissions through purchasing carbon credits or supporting carbon reduction projects. ESG performance for investors is often tracked through one of the following:
FairTrade: Fair trade is a social movement that aims to ensure that producers in developing countries receive fair prices for their products. It promotes sustainable practices and fair working conditions.
Dow Jones Sustainability Index: DJSI is a leading global sustainability index that tracks the financial performance of companies based on their sustainability practices. The index is widely used by investors, companies, and organizations to measure sustainability performance and make informed investment decisions.
FTSE4Good: FTSE4Good is a global index series that tracks the performance of companies that demonstrate strong environmental, social, and governance (ESG) practices. It is designed to provide investors with a tool to invest in a responsible and sustainable manner.
Selecting and applying the best tool for your business, and then leveraging the resulting metrics, can be a powerful tool to drive the progress of your ESG and sustainability journey.


Charting the Course Ahead for Corporate India
As corporate India continues its march towards comprehensive sustainability reporting, businesses must remain attuned to the evolving regulatory framework, understand their obligations, and seize the range of opportunities it may present. The foundation of effective sustainability reporting lies in the convergence of strategic foresight, transparency, and tangible ESG outcomes.
Companies must not view reporting as a mere formality, but as an instrument for enhancing their strategies, operations, and stakeholder relationships. By developing and presenting compelling narratives that connect their ESG performance with their journey toward sustainable growth, Indian companies can use sustainability reporting as a catalyst for broader positive impacts across society, the environment, and the economy.