Risk and Rewards for the growing Indonesia refinery sector
Readiness to operate benchmarks, management operating systems, risk and safety, contractor management, and ESG criteria are some of the multiple issues companies operating or investing in Indonesia's emerging refinery sector must address successfully to compete against a plethora of activity in this area.
Read More

Indonesia is well on its way to realising its ambition to decrease its reliance on processed metals imports whilst increasing the value of its exports.
The Indonesian government's decision to ban mineral export initiated in 2014 has been a key driver, aimed at boosting the country's long-term returns from its mineral wealth by forcing miners to process their ores before export.
Nickel exports stopped altogether from January 2022, whilst bauxite shipments ceased in June 2023. Remaining metal ore – including copper, iron ore, lead, zinc – which were initially slated to be banned from export also from the start in June 2023 have now been extended to May 2024 due to pandemic-related smelter construction delays.
This strategy is paying off. For nickel alone, the Indonesian government has said the export value of processed nickel products in 2021 was estimated at $30 billion, or ten times higher than the export value of overall nickel exports four years prior.
This is explained by an increase in production – with 1,600 thousand tonnes of mined metal in 2022 (up from 345,000 metric tons in 2017), Indonesia is the undisputed global leader in nickel production, followed by the Philippines at 330 thousand tonnes – as well as the push for refining domestically.
This will continue a recent investment trend into smelting capacity in the country.
Building domestic smelting capacity has been a critical element in this transition.
Between 2014 and 2020, the number of nickel smelters increased from 2 to 16. Many more smelters are under development or planned; various government departments have at times indicated figures as high as 68 will be built before 2030.
This has prompted a wave of domestic and international investment, including from Chinese companies which alone reached US$3.6bn in the first half of 2022. The total investment value is likely to exceed $50B by the end of the decade.
Examples of investment activity include:

Indonesia Morowali Industrial Park (IMIP) is a collaboration between the BintangDelapan Group and China's Tsingshan Steel Group. Based in Morowali Regency in Central Sulawesi, it currently covers 3,000ha and employs c. 80,000 people with further plans for growth. The park's estimated total capacity for stainless steel production was 3 million metric tonnes per year in 2020.
Vale is committing $10 billion for investment in Indonesia over the next decade to capture demand for metals such as nickel and copper. This includes two high-pressure acid leaching (HPAL) plants with China's Zhejiang Huayou Cobalt and other partners, and a a ferro-nickel plant with China's Shandong Xinhai Technology and a unit of China Baowu Steel.
U.S. car maker Ford has also joined Vale Indonesia and China's Zhejiang Huayou Cobalt's as their new partner in a US$4.5 billion nickel processing plant, to be located in Pomalaa in Southeast Sulawesi, where Vale already operates a nickel mine. The project could produce up to 120 kilotons per year of contained nickel in the form of mixed hydroxide precipitate (MHP), a product used in some electric vehicles batteries.
Freeport McMoRan's $3 billion copper smelter is under construction adjacent to its existing operations in East Java and is expected to start operations in 2024. It is reported to be 75% completed.
Indonesia Weda Bay Industrial Park (IWIP) is an integrated Industrial Estate for heavy metal processing located in the North Maluku Province. Owned through a JV by France's Eramet and China's Tsingshan Holding Group, it has total annual production capacity of 30,000 tonnes.
India's Jindal Stainless has signed a JV with local company New Yaking to build a nickel pig iron smelter on Halmahera Islands. The facility will have a nameplate production capacity of up to 200,000 metric tonnes.
Nanshan Aluminium announced it plans to invest 6.063 billion yuan to build a 250kt/a aluminium smelter, a 260kt/a anode project and support facilities on Bintan Island. According to the plan, the construction of this project will be completed in 2028.
Barriers to overcome during feasibility, construction and operational phases
This intense period of activity brings an array of challenges for all stakeholders, including:
Infrastructure and Logistics
Indonesia's vast archipelago presents logistical challenges, including transportation and access to remote mining areas. Establishing efficient supply chains and infrastructure networks can be a barrier for new entrants, particularly in regions with limited existing infrastructure.
Government Regulation
Whilst the government aims to encourage domestic ore processing, including restrictions on unprocessed ores and requiring foreign players to partner with local entities, implementation has included regulation U-turns, and future regulation changes can be uncertain. Investors need to stress test a range of regulation scenarios in their plans.
High Capital Intensity
Establishing a smelting facility requires substantial capital investment, including the construction of smelters, infrastructure, and specialised equipment. This financial barrier can limit the entry of new players, particularly smaller companies or those with limited access to funding.
Local Community Engagement
Effective engagement with local communities is crucial for obtaining social license and maintaining positive relationships. Building trust and addressing community concerns can be time-consuming and resource-intensive, particularly for new entrants without established relationships or a track record in the region.
Technological Expertise
Smelting involves complex processes and requires advanced technological expertise. Developing the necessary technical knowledge and capabilities can pose a challenge for new entrants without prior experience or access to specialised resources.
Safe Work Environment
The health and safety records of smelting projects has been uneven to date. Beyond the duty of care owners and operators have, at a time when the local workforce is able to consider its options, providing a safe work environment delivers a competitive advantage.
Environmental Compliance
The smelting industry, especially as it relates to Nickel, is subject to stringent environmental regulations due to the potential environmental impact of smelting operations. Meeting these compliance standards can be demanding, requiring significant investments in pollution control and waste management systems. Other sustainability issues, beyond compliance, are discussed below.
Access to Skilled Workers
At a time when multiple smelter projects are under way or planned across Indonesia, access to skilled workers and skilled contractors has proven a challenge. Yet, access to these resources is critical to projects coming to fruition, on time, on budget, and without incident. Companies are highly reliant on many of the same contractors for construction and operations. Selecting and managing contractors must become a core competency.
It is important to consider these barriers when assessing the viability of entering the smelting industry globally or specifically in Indonesia. Yet, it is critical to the successful completion of current Indonesia Government policy, and to mining companies which must comply with it and who will derive additional revenue from it, that the current wave of smelter construction not only be brought to a successful completion, but most importantly that their operation proceed safely, productively, and sustainably. Conducting thorough market research, assessing financial capabilities, understanding your risk, and developing strong partnerships can help mitigate these challenges.
The sustainability landscape has evolved
Sustainability considerations have evolved considerably since this new policy was first floated in 2014, with the Indonesian government submitting its updated nationally determined climate goals to the United Nations in July 2021.
Closer to the smelter issue, in early 2023, the Government indicated it would review plans for the construction of nickel smelters to ensure new plants produce high-value products and follow sustainability-friendly principles in the production process. With many existing smelters already producing nickel pig iron or ferronickel, the priority would move to creating higher value materials including input for batteries for electric vehicles.
All stakeholders involved, whether construction has started or not, will need to adapt their plans to take these new sustainability considerations into account – both at building and operational stage. Stakeholders should consider the following at a minimum.
Smelting raw materials requires a vast amount of energy, with aluminium and nickel being especially high. This has a sustainability, operational and financial cost. Amongst other issues, this will pose a toll on the existing energy infrastructure and is likely to require recurring Independent Power Production (IPP). Freeport is an exception, as it will source its electricity from PT PLN (Persero) to meet power demand for its copper concentrate smelter in Gresik, East Java. The latter offers Freeport a considerably competitive option as opposed to the company having to build its own power plant or source power from a company other than PLN.
Treatment of waste
A preferred method of dealing with mining waste to date has been dry stack tailings, where waste is dried and compacted. This raises environmental (and safety), such as risk of runoff into the sea. Over time, as those sites become increasingly distant from the smelter, environmental outcomes linked to increased haulage will become a factor. In addition, nickel smelting slag has valuable metals including nickel and copper. Failure to recycle these metals wastes resources, and disposal of nickel slag in stockpiles results in environmental pollution. Waste disposal costs should also be factored in.
Recycling
Whilst Indonesia has a substantive reserve of critical minerals, it is a finite resource. It would be prudent to evaluate circular economy options linked to this new wave of smelters, especially as it relates to processed material which will stay in country.
Whilst sector challenges and opportunity abound, what are the crucial steps investors and operators can take to ensure planned or above planned returns on their capital?

A faster path to success: Success factors for Project Management, Execution, and Operational Readiness to ensure timely delivery and optimal Net Present Value (NPV)
Readiness to Operate concepts have been in existence for decades, with most focusing on project management. Our experience shows this is limiting outcome effectiveness; rather the readiness to operate process must focus on a broader range of areas in order to ensure a safe and reliable start-up.
A proactive approach and significant owner role is critical to the successful project design, execution and transition to operations, as highlighted in Graph.

Within the construction phase, key considering will also include the following:
Effective Project and Risk Management
Strong project management practices are essential for successful execution. This includes establishing clear project objectives, developing a detailed project plan with defined milestones and deliverables, and implementing robust project controls to monitor progress, identify and manage potential risks, and take timely corrective actions.
Local Community Engagement
Engaging the local community early will not only lead to a smoother construction process, but also facilitate recruitment. Building a smelter is human resources intensive, as is its operational phases. Being considered an employer of choice will facilitate that endeavour.
Continuous Monitoring and Reporting
Regular monitoring and reporting of project progress against key performance indicators are crucial for maintaining transparency, identifying potential deviations from the plan, and taking prompt corrective actions. This includes implementing robust project governance mechanisms, conducting regular project reviews, and ensuring effective communication with stakeholders at all levels.
Thorough Operational Readiness Planning
Adequate planning for operational readiness is vital to ensure a smooth transition from construction to operation. This includes developing detailed operational plans, conducting comprehensive training programs for personnel, and implementing robust maintenance and reliability strategies. Proactive identification and mitigation of potential operational risks will help minimise delays and ensure a seamless start-up. A realistic approach to slag and waste minimisation is an oft-forgotten part of these plans.
Careful Selection and Management of Contractors
Contractors, including EPCs, will play a key role in the smelter's construction phase. Depending on the location of the project and the technical skillset required, your options may even be limited, yet their contribution will have a significant impact on the project being delivered on time, on budget, and with zero incident.
Integrating Energy Security and Emissions into your Plans
Evaluate the latest regulatory requirements, understand where your increased energy requirements will be sourced from, assess whether and how renewable energy capacity factor into your plans.
Robust Execution Strategy
A well-defined execution strategy is crucial for managing resources, timelines, and costs effectively. This involves establishing clear roles and responsibilities, ensuring efficient communication and collaboration among project teams, and implementing a comprehensive change management process to address any unforeseen challenges that may arise during the execution phase.
Effective Commissioning Process
A well-structured commissioning process is essential to verify that all systems, equipment, and processes are fully functional and meet the required specifications. This involves conducting rigorous testing, inspections, and validation activities to identify and rectify any potential issues before fullscale operation. A comprehensive commissioning plan and clear protocols for handover to operations will contribute to a successful project outcome.
Maintaining safe operations and operational stability post-commissioning
Once the smelter has been commissioned, managing it safely and productively on an ongoing basis will require active effort on a number of fronts.
Robust Safety Management System and Culture
Establishing a robust safety management system is essential for maintaining safe operations. This includes developing and implementing comprehensive safety policies, procedures, and protocols. Regular safety training programs should be conducted for all personnel, with a focus on hazard identification, risk assessment, and emergency response preparedness. Continuous monitoring and reporting of safety performance metrics will help identify areas for improvement and enable proactive risk mitigation. Beyond processes, organisations whose leaders and overall workforce are deeply grounded in a culture of safety, are known to have sustained safety performance.
Proactive Risk Management
Proactively managing operational risks is essential for maintaining stability. Conducting regular risk assessments to identify potential hazards and vulnerabilities will enable the implementation of appropriate controls and mitigation measures. Effective incident reporting and investigation processes should be in place to foster a learning culture and prevent recurrence. Additionally, implementing business continuity plans and emergency response procedures will ensure preparedness for unforeseen events and minimise disruptions to operations.
Continuous Process Optimisation
Continuous process optimisation is key to improving operational efficiency and stability. Regular monitoring and analysis of operational data, such as production rates, energy consumption, and quality metrics, can provide insights into areas for improvement. Implementing process control systems, conducting regular process audits, and fostering a culture of continuous improvement will help identify optimisation opportunities and drive operational stability and performance.
Engaged Workforce and Effective Communication
A highly engaged and motivated workforce is critical for maintaining safe operations and operational stability. Encouraging open communication channels, fostering a culture of trust and accountability, and empowering employees to actively participate in safety initiatives will contribute to a safe and stable operational environment. Regular communication and engagement activities, such as toolbox talks, safety meetings, and recognition programs, will help promote a safety-first mindset and ensure operational stability.
Effective Maintenance and Reliability Practices
Implementing effective maintenance and reliability practices is crucial for operational stability. This involves developing a structured maintenance strategy, including preventive and predictive maintenance programs. Regular inspections, equipment condition monitoring, and proactive maintenance interventions will help identify and address potential issues before they escalate into major disruptions. Additionally, ensuring a robust spare parts inventory management system and effective vendor management will contribute to minimising downtime and maintaining operational stability.
Planned and Monitored Integration of Contractors into your Operations
In an EPC context, contractors are essential to the delivery of the smelter on time, on budget and without incident. As is their ongoing role. It is estimated contract workers suffer higher accident rates than employees. They also often report a lack of integration with the broader project, to the detriment of outcomes. Intentional selection based on a range of criteria beyond the financial should be followed with effective onboarding into the company's operating system and ongoing monitoring.
In summary
The Indonesian smelting sector will continue to experience a rapid shift over the short term. Companies able to complete capital works and transition to operation successfully will benefit from a significant competitive advantage, as Indonesia becomes the foremost player in the critical mineral sphere.
Critical to this outcome are:
A clear understanding of your risks, at each step of the construction and operational phases.
A thought-out and carefully managed plan to ensure efficient readiness to operate and return on capital investment.
Integrating sustainability considerations in your early planning and ongoing improvement programme. From energy sourcing and efficiency to waste management, recycling and local community engagement, to name just a few. Your competitive advantage may no longer rest in being the lowest cost producer, but in offering "green" metal that contributes positively to your financial outcomes, your customers' Scope 3 emissions, not to mention Indonesia's aspirations.
Case Study:
Getting capital project back on track
When a development project at mining operation threatened to overrun by more than three months and cause over $64m in delayed revenue, the company needed to rapidly clear the development backlog and get the project back on track.
dss+ was engaged in a rapid turnaround program over 8 weeks aimed at accelerating the development rate to address existing overruns and prevent them from extending further.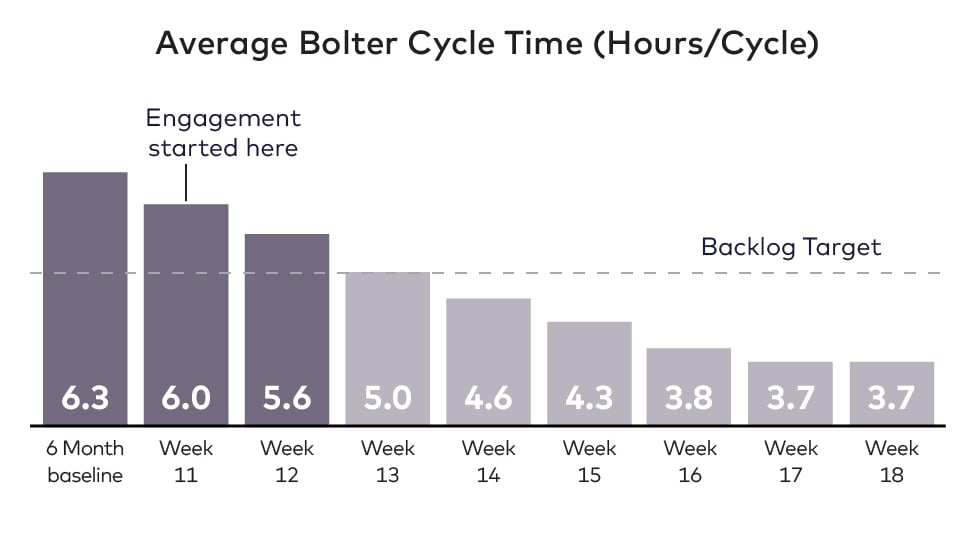 Impact
$64m in development backlog and delayed revenue recovered
20% improvement in overall cycle times within 8 weeks
40% improvement in bolting cycle times
Operating system established to sustain results
Intense on-the-job coaching of supervisors and superintendents to drive targets and deliver backlog recovery
Case Study:
Minimising risk
This steel manufacturer operates a green field integrated steel plant with 3MMT capacity. The company faced several challenges in effectively reducing risk exposure across its operations. A lack of operational discipline in critical control implementation had led to several incidents which affected both safety and operational performance. The client engaged dss+ to help transform risk management capacities and safety culture.
Impact
24 operational processes risk profiled
187 hazards identified, 100 of which had major consequence potential
4 processes improved
6 new standard operating procedure developed
Extensive engagement and coaching of client personnel