How can biochar help food firms build a competitive edge?
Biochar is an exciting Greenhouse Gas Removal (GGR) technology with significant potential to help agri-food companies gain a competitive advantage. By removing carbon from the atmosphere, it's reducing supply chain emissions and increasing the sustainability of products. Here's how.
Read More
Published on Jun 22, 2023
As in other sectors, the need to reduce carbon emissions and improve the sustainability of end-products is critical for food and beverage producers.
However, such undertakings are inherently complex, given that the food production system is interwoven with numerous industries, such as agriculture, chemicals (via fertilisers), transportation, and packaging manufacturing. The issues arising from this complexity are exacerbated by typically tight margins and ever-increasing supply chain risks.
Despite this complexity, there are significant upsides to improving the sustainability of end-products. More sustainable products enhance brand equity and allow companies to increase revenue through high levels of customer acquisition and retention. Indeed, better performance in sustainability can attract greater investment, and reduce regulatory and stakeholder pressure on companies.
Biochar could have an increasingly important role to play in reducing carbon footprint and improving the sustainability of end-products. Yet to date, uptake has been slow due to cost factors and scaling both demand and supply of a relatively unknown product. The situation is fast changing as stakeholders come together to understand how biochar could improve the profitability and sustainability of production within the food and beverage sector.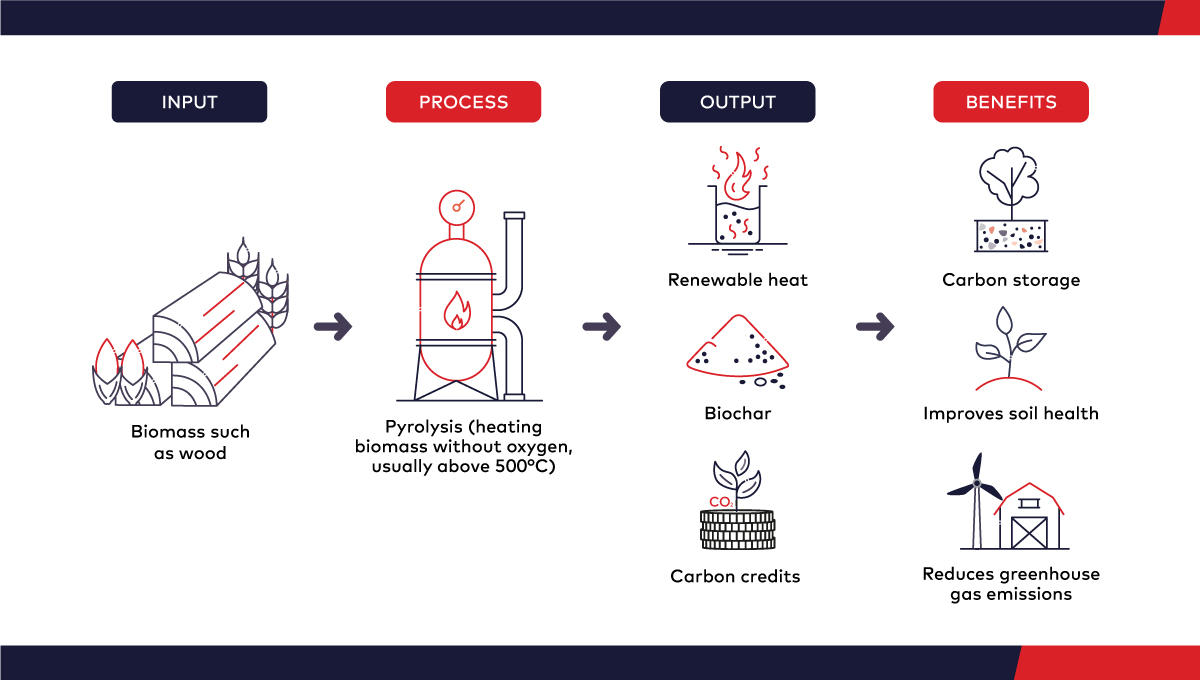 The value chain business case for biochar
These days, conversations around biochar tend to focus on its climate change benefits, namely its potential to capture and store carbon. Certainly, biochar is an effective means of doing so, yet the benefits can be seen for actors across the supply chain.
"Especially in an energy crisis, hosting pyrolysis units allows companies to simultaneously reduce their reliance on energy from fossil fuels and move a step closer towards reaching their sustainability goals."
– Alex Clarke, Co-founder and CEO of Black Bull Biochar
For farmers, the use of biochar enhances soil quality by improving nutrient cycling in the soil, increasing water availability to plants, and bolstering crop resilience to climate-related stressors. Therefore, it can help farmers to boost crop productivity, and reduce both runoff and fertiliser costs. This, in turn, helps farmers to provide more security in terms of output, and become more resilient to the effects of climate change.
For producers of biochar, the production process – pyrolysis – has direct benefits; it is an economic, renewable source of heat that can be used to reduce emissions (if displacing fossil fuel generation) for a variety of purposes such as distillation, greenhouses and drying.
"Pyrolysis is a mature technology but it's also relatively easy to integrate into existing industrial sites, with commercial manufacturers readily available," says Alex Clarke, Co-founder and CEO of Black Bull Biochar (BBB). " Especially in an energy crisis, hosting pyrolysis units allows companies to simultaneously reduce their reliance on energy from fossil fuels and move a step closer towards reaching their sustainability goals."
For food and beverage manufacturers, the use of biochar within their value chains allows them to create more sustainable products, thereby building brand equity and subsequent customer acquisition and retention. By improving productivity and resilience on farms, there is more security of supply. These benefits could translate into higher returns for investors, reduced pressure from regulators and resilience to market changes.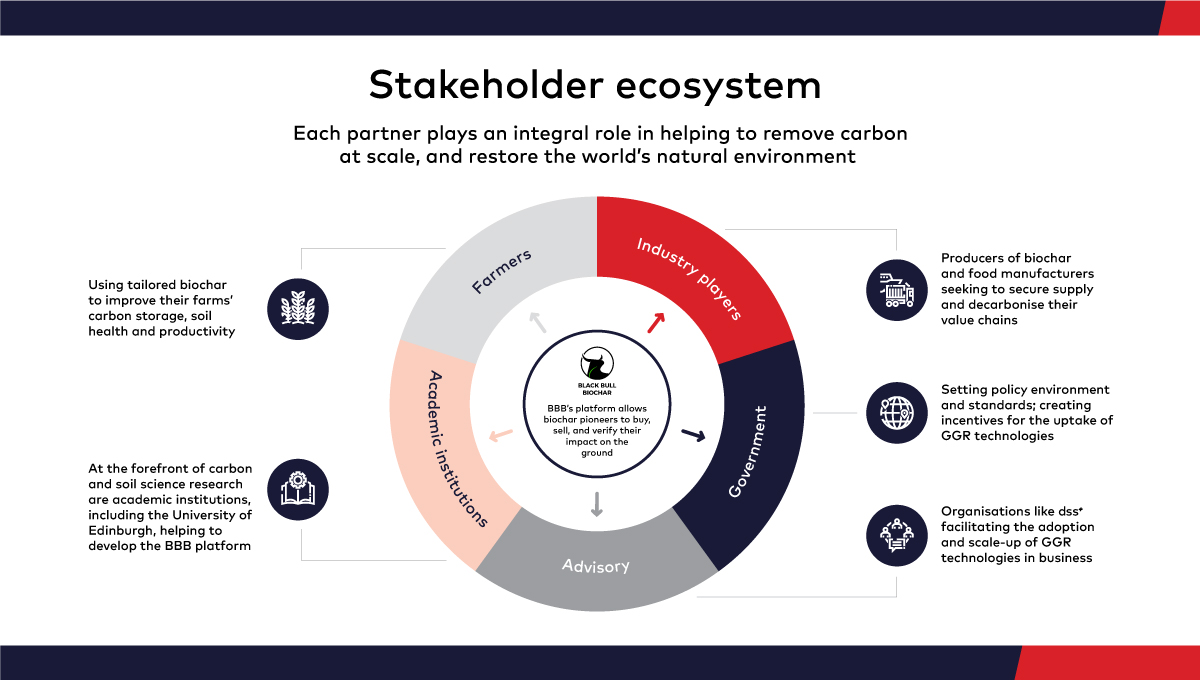 Addressing the scalability challenge
"Biochar is an extremely promising and financially viable GGR technology, yet difficulty with scalability has hampered wider uptake to date," explains Melissa Barrett, global head of sustainability services and corporate impact at dss+.
This is where BBB comes in. A spin-off of operations management consulting firm dss+, BBB was founded with the mission of building a business-to-business platform that brings together agricultural and industrial partners to scale the use of low-cost, high-quality biochar.
In 2022, BBB secured £3 million through the Net Zero Innovation Portfolio (NZIP) from the UK Department for Energy Security and Net Zero (DESNZ) after being successful in the final round of the Direct Air Capture (DAC) & Greenhouse Gas Removal technology competition run by DESNZ.
After receiving the contract from the UK government, BBB is now gearing up towards biochar production at its first industrial partner host site. The biochar from this site will feed into pilot trials with a group of farmers from dairy cooperative Arla.
"Although we have known about biochar for millennia and it has been extensively researched, its commercial use in the 21st-century agriculture is relatively new," Alex says. "As such, one of our primary focuses is bridging this gap by cultivating knowledge within the industry of what biochar is, and how it works in soil and farm management practices."
Within the platform, agricultural players can visualise the impact of their biochar solution, decide on potential carbon insetting or offsetting finance mechanisms, track orders and payments, and even receive advisory services on how best to use their tailored biochar.
"We are building a system where companies looking to offset their carbon emissions are able to purchase carbon removal credits generated by BBB. This allows us to sell biochar at a substantial discount to farmers, making it more feasible to adopt at a larger scale on farm," Alex explains. According to dss+, the platform will help overcome barriers to creating – and scaling – a sustainable biochar network. "This platform has potential to go far beyond its current scope within the UK, providing a powerful tool in the fight against climate change," adds Melissa.
---
CASE STUDY
Arla: unlocking new ways of working
Arla, one of the world's largest dairy producers, saw significant value in BBB's proposition to help it meet its own sustainability goals, but also to influence the entire supply chain. For this reason, it agreed to be a pilot member of the BBB programme.
"The fact that biochar is being made from a standardised virgin feedstock, high quality pyrolysis process and the biochar has a clear means of use, means that the impact of the product can be monitored," says Paul Savage, UK agriculture director at Arla.
"What is most attractive about this project is the potential to support our farm owners on their sustainability journey."
For Arla, biochar has become one of its research areas and the cooperative is looking forward to seeing how it can be implemented on farm.
"Working in the dairy sector requires an open mindset and willingness to evolve, and that is why it is so vital for us to explore and test new technologies such as biochar," explains Paul.
---
About Black Bull Biochar
Black Bull Biochar (BBB) is a start-up with a mission to scale up the use of biochar – a leading greenhouse gas removal technology – by creating a first-of-a-kind platform and network that helps key stakeholders within academia, industry, agriculture, and government overcome the systemic barriers to widespread adoption of biochar. By helping to increase the production and application of biochar, BBB actively contributes to the mitigation of climate change and the enrichment of agricultural systems. Additional information is available at www.blackbullbiochar.com